Looking for an Energy Efficient Wall Pack?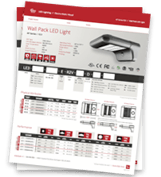 Upgrade from your current wall lighting and cut electric bills by over 50% with the AP Series Wall Pack from Electro-Matic Visual.
Download your copy of the Product Sheet for details and information, including:
Expected lifetime
Available light distributions
Mount type and customizable controls
And more...
Fill out the form to access the Wall Pack LED Light Product Sheet now.