Looking for a light to fill a warehouse or bay?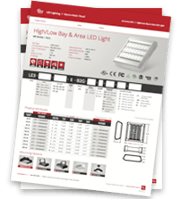 The AR Series Bay & Area LED Light from Electro-Matic Visual is available in a number of mounts and luminosities, making it perfect for use in your build or retrofit.
Download your copy of the Product Sheet for more information, including:
Expected lifetime
Mounts and other customizeable options
Installation and warranty details
And more...
Fill out the form to access the Bay & Area LED Light Product Sheet now.