Save on energy expenses while keeping your outdoor area well-lit.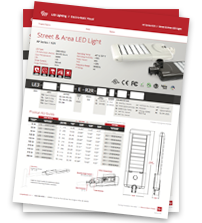 The AP series of Street & Area LED Lights from Electro-Matic are made with sustainability in mind. These long-lasting LED Lights are a cost-saving improvement from incandescent lighting for roads and parking lots.
Download the Product Sheet for details and information, including:
Expected lifetime
Mount details and available options
Installation and retrofit information
And more...
Fill out the form to access the Street & Area LED Light Product Sheet now.