Replace fluorescent lights with Panel LEDs for office and indoor lighting.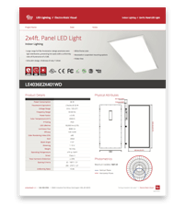 The Electro-Matic 2x4 ft. Panel LED Light is an improved alternative to fluorescent lighting for indoor spaces. LEDs are longer lasting and more efficient for indoor spaces than fluorescent lights..
Download the Product Sheet for more information, including:
Expected lifetime

Easy Installation

Warranty details
And more...
Fill out the form to access the 2x4 ft. Panel LED Light Product Sheet now.
If you are looking for the 2x2 ft. Panel LED Lighting sheet, download the product sheet here.